The best employee monitoring software
If you're managing a team, you are probably faced with the question of how to monitor your employees' work. During working hours, they can absent from work, do other things or even take a nap! The answer to this question is to use employee monitoring software. On this page, we have collected 5 of the best applications to track employees.
What is employee monitoring software?
In 2023 almost every workplace uses computers. Even construction workers have computers. Employees also have smartphones or tablets. All these gadgets can be used to track their activities. Openly or hidden, you can learn what your team did and when. With modern apps, you can even learn where they were!
You can download and install employee-monitoring software on:
Personal computers or laptops on Windows or MacOS;
Smartphones or tablets on Android or iOS.
Step 1

Sign up to your free online account: enter email and a new password.

Step 2

Download and install the best phone tracker app from online account.

Step 3

Monitor all recorded data and recorded calls in your online account.
You will be surprised, but this set of devices allows you to monitor 90-95% of people in developed countries, such as the USA or Germany, and 60-70% of people in developing countries, such as India or Turkey. These are the shares of people who have portable devices.
After installation, you will track:
When the user used the device;
What actions were taken;
And a lot of other information.
It depends only on you how you will use it. For example, you can use the software to monitor when a person came to work or left it. Also, you can collect information about the number of calls made, to whom, etc. All this provides great opportunities for personnel management and the building of more efficient business processes.
Employee monitoring software can work both secretly and openly. Each option has its pros and cons.
For example, secret surveillance can detect and prevent violations. When a person knows that he is being watched, he tries to work better and observe all the requirements and rules.
However, with constant surveillance, problems can arise. For example, an employee may lose the motivation to work. Good workers could be offended, believing you do not trust them. Therefore, you must find a balance between surveillance and freedom for your workers.
You can monitor employees openly, or monitor in stealth mode. Following you will find the 5 best employee monitoring software programs. Most of them work in both modes, which means they're universal. We tried all of them and share our own reviews.
Hoverwatch
Hoverwatch is spy software that was designed to completely track all activities. You can install it not only on a PC, but also on smartphones! In 2023, it is very important, as even if you track your employees' activities on their computers, your team could lose time in other ways – for example, by using their phones. With Hoverwatch, you can track people much more than you can with any other software.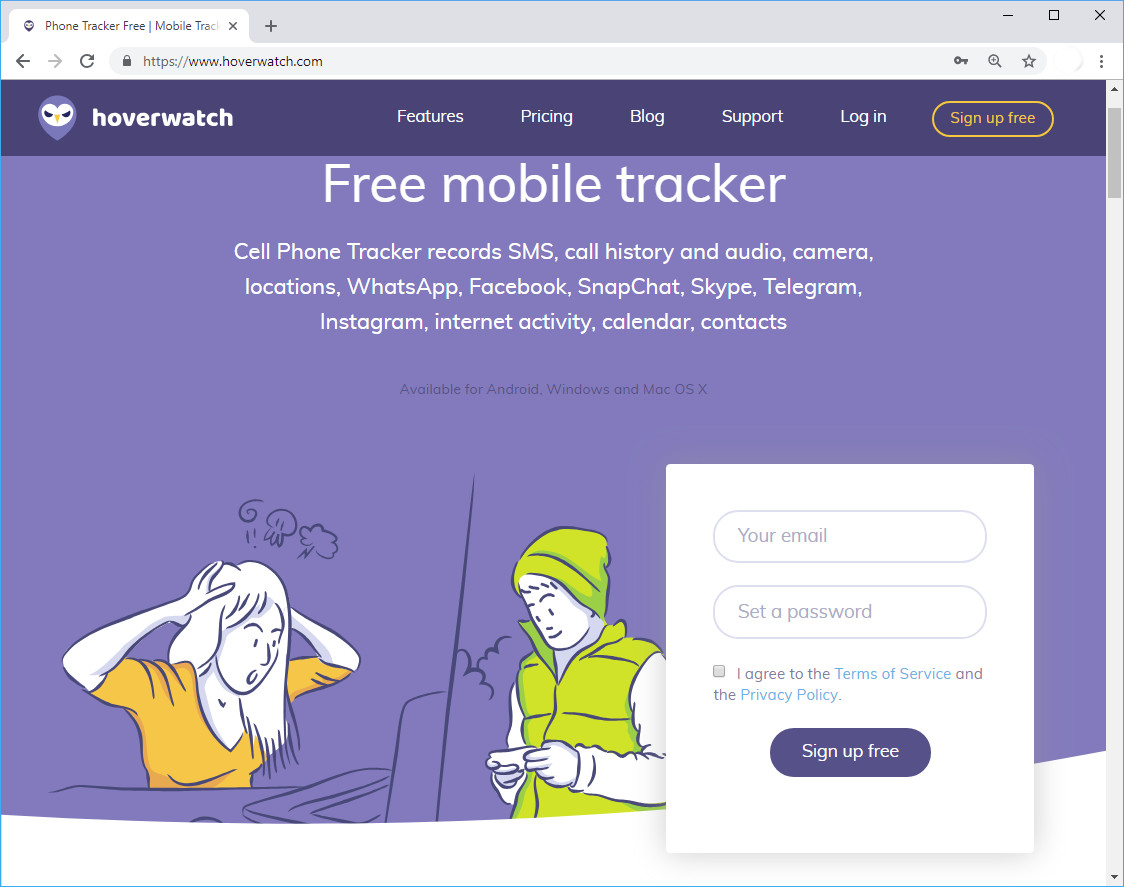 The advantages of the software are that you can track different devices at the same time, as well as various kinds of information:
Calls;
Browser usage;
SMS;
Messengers – WhatsApp, Viber, Snapchat and others;
Locations;
And much more.
Just imagine; with Hoverwatch, you can determine when your worker called somebody, when he used a browser and which websites he's visited.
Location tracking is a great tool for monitoring employees. You can combine it with your internal systems and track when employee come to or leave work. It is a simple and transparent way to see where your team was and when. For example, you can track whether the person was in the office on time.
Tracking messengers have two advantages. You can determine whether your team is working or chatting, and you can learn if an employee is speaking with your competitors.
If you wish, the Hoverwatch application can monitor employees in a completely hidden mode; otherwise, your team members would know that you're tracking them. Just switch on the Stealth mode and spy without letting them know.
Hidden spying on employees has a big advantage. If your people do not know about monitoring, they're acting naturally. If you track them and let them know, you can see only what they want to show you. This isn't bad, as the knowledge that your boss is tracking you can help people work better. However, they might also try to cheat you.
With Hoverwatch, it is hard to be cheated by employees. Whatever they try to do (for example, use VPN or mobile Internet), you will get all the information. Moreover, you can even track the screens of their devices!
All collected data is stored in the Control Panel, where you can easily manage personal and tracked information. If you want to save it for a long time, you can download, for example, call history, and store it in the cloud service.
This application is the best that you can find in 2023. Following, we provide alternative solutions: paid and free. You can choose one of them, but in any case, you will have to return to Hoverwatch, as this is an excellent product that allows you to fully monitor employees.
Final score: 9/10. We recommend Hoverwarch for people who want to track activities, not only on a PC but also on smartphones.
Teramind
Teramind is one of the best employee monitoring software programs out there. Despite the fact that this application tracks only personal computers, this solution is at the top of our list.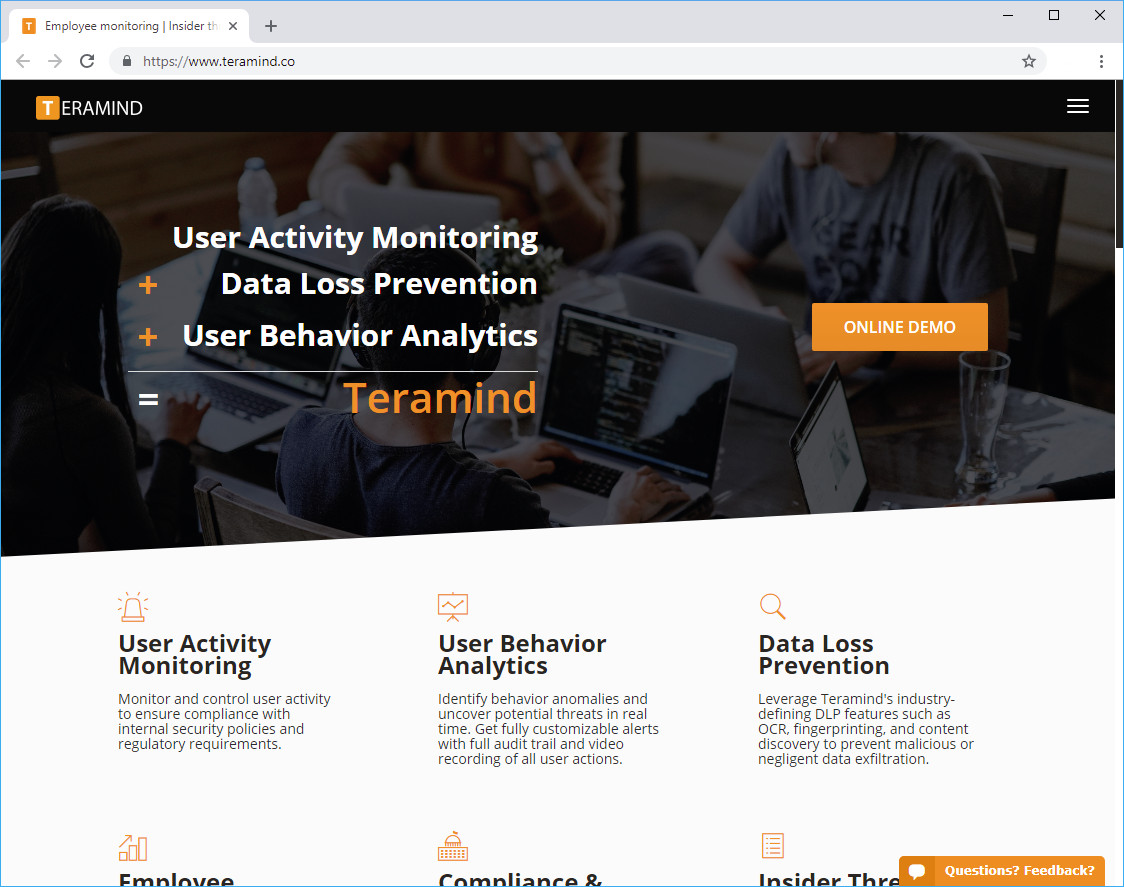 The main advantage of Teramind is not only that it collects data, but that it also independently analyzes it! This is convenient if you manage a large team (more than 100 people); with Teramind you do not have to follow it all personally.
All the information is collected, then analyzed; you have to look at only a brief report. If necessary, you can configure notifications that will show up only if some rules were broken. You specific those rules. For example:
Shut down the computer ahead of time;
Long absence of an employee;
No calls during the day;
Etc.
All this allows you to automate and optimize the monitoring of your employees' activities. This is why Teramind took second place on our list.
Final score: 8/10. We recommend this tool for big teams and for everyone who wants to optimize the monitoring process.
ActivTrak
ActivTrak is one of the best-known solutions for employee monitoring. While we conducted our research, we found a lot of references to, and reviews of, ActivTrak. Most of them were positive.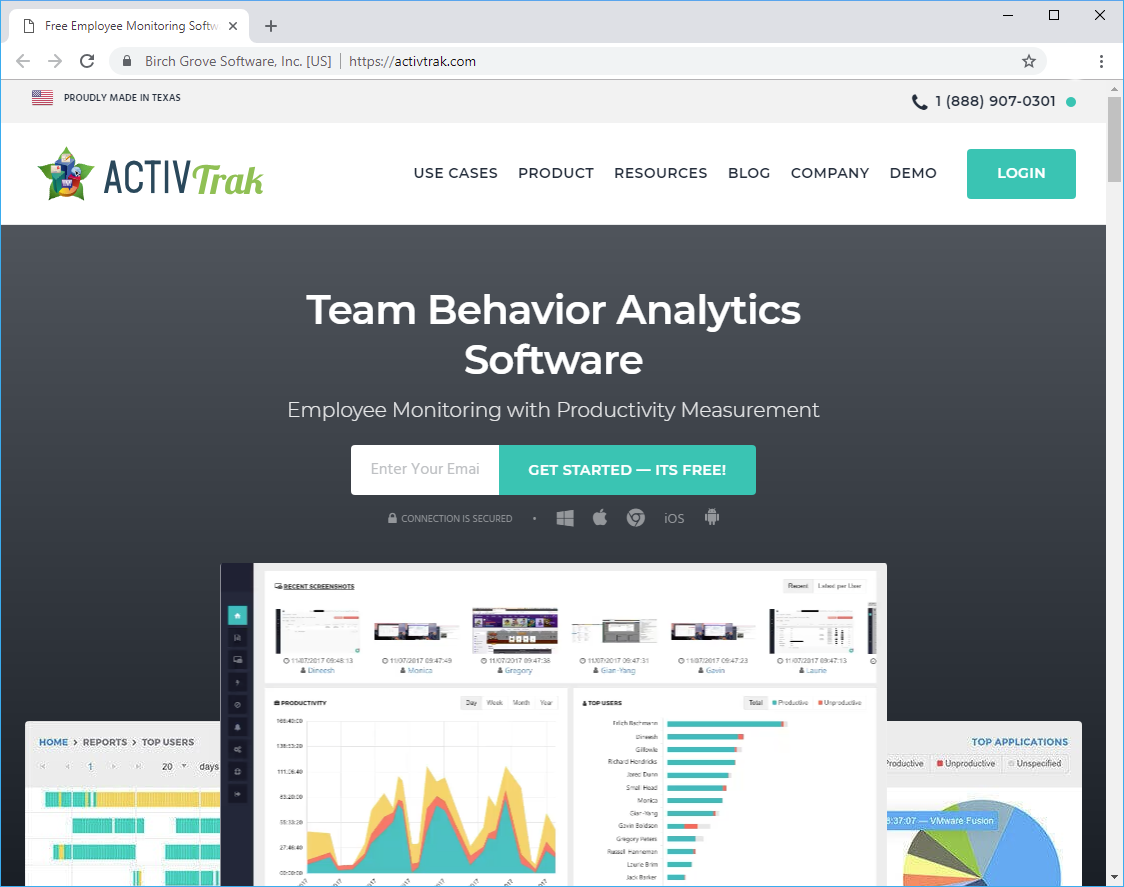 Software saves all data in cloud storage. It is the same with Teramind, which has an analyze feature. However, this isn't the main advantage! ActivTrak is a completely free solution shared by the freemium model.
This is a key reason why ActivTrak is the most popular employee tracker in some countries. Nevertheless, be careful, as the extended version with the full set of features is a paid one, and the price is high – from $9 per month per user. If we compare this price with Hoverwatch or another popular employee monitoring software, ActivTrak loses the competition.
Final score: 7,5/10. Features available in the free version are enough only for beginners or small teams. This is why we decreased the scores, but ActivTrak is a good service and deserves to be in our rating.
Time Doctor
Time Doctor – This solution is suited for a small business. Despite the fact that the official webpage says that TimeDoctor is fit for companies with 500 employees, the reviews indicate that 20-30 people is the highest number.
The small team size isn't a drawback, as this software is really awesome. Team volume is only one main problem. There are two more facts that we learned from the reviews. Time Doctor doesn't have remote control and doesn't have a keystroke feature.
The solution is based on a web interface and provides flexibility for checking employees' activities. It doesn't consume laptop resources and can be used on even old machines.
Time Doctor focuses on activity tracking. It can be integrated into some popular software, such as browsers, text editors and so on. You can get a detailed review of where time has been spent.
Final score: 7/10. If you aren't afraid of reduced functionality, this is your option!
SkypeTime
SkypeTime – This is a unique solution that counts time by the activity in Skype Business. If your business is based on the calling, you can use this software.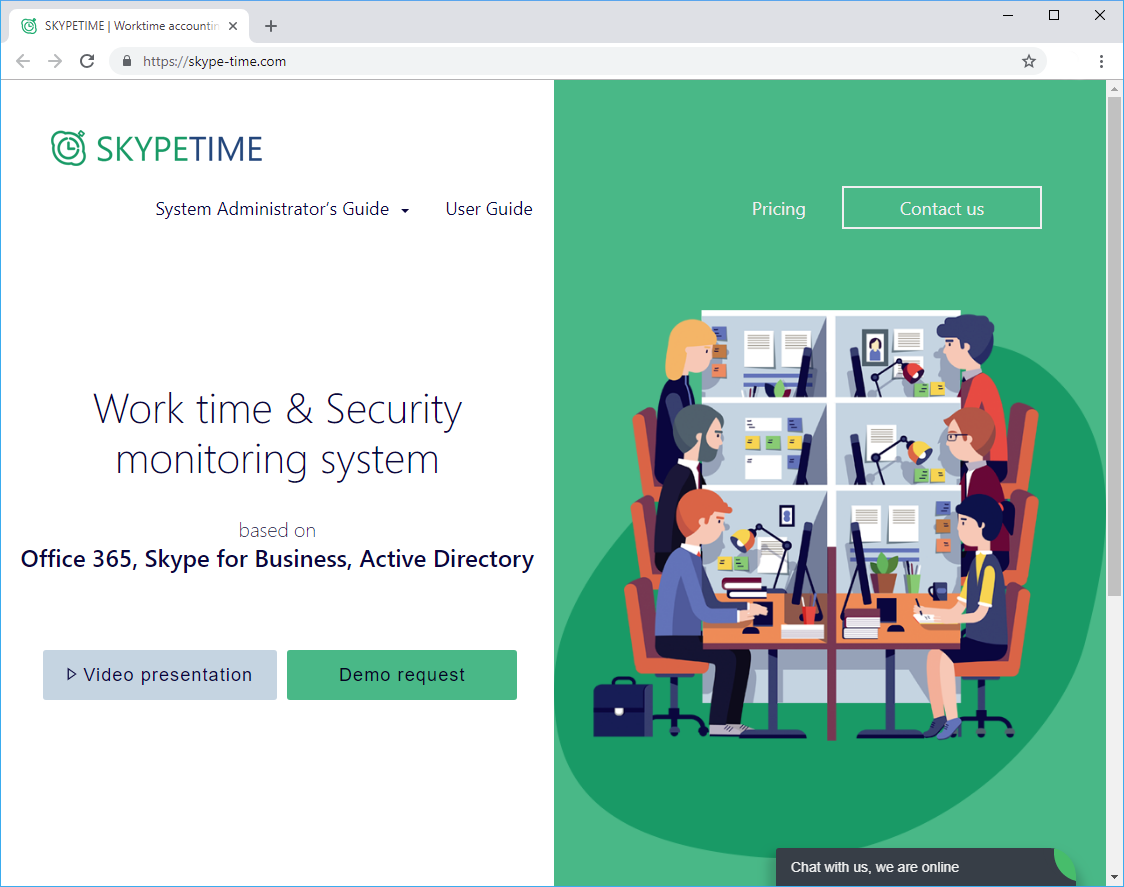 It works in a partially hidden manner, as it is not a complex monitoring software program. This is both an advantage and a disadvantage. Your workers may not know that you're tracking them, but at the same time, it is easy to cheat the system.
With SkypeTime, you get statistics about how much Skype Business was used. However, employee can start it and even be outside the office. There is no way to prevent it or clear the data.
Final score: 6/10. We recommend this tool as an addition to other tracking methods. This app definitely cannot work as an independent solution.
Find the best employee monitoring software for business for 2023
We compared more solutions than five. In our ratings, we included only the best applications. All the options that this page presented have their pros and cons. We tried to choose products from different niches, ranging from a spy solution to a narrow niche product for monitoring employees via Skype.
If you choose the best solution for 2023, we recommend trying each on our list. If you do not have that much time, stop at the first one – Hoverwatch. This is the solution that will work in most cases.
While using any solution on this page, do not forget that control over employees should be done within the law. This is your priority: to ensure that you do not break the laws. If all is well, choose the best solution and track your team's work.